We've simplified your search
Download our free guide that explains — in plain English — the five most important things to know about the importance of allied health certification.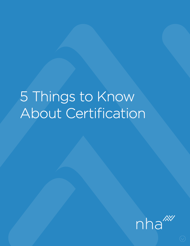 Allied health is a rewarding field. If you're looking to start or advance your allied health career, certification is an important step. But there are so many options and just one Google search can leave you confused and frustrated. We're here to help.

In this free guide, we'll answer the five biggest questions we hear:

What is certification?

Why does it matter if I get certified or not?

How do I get my certification?

How do I prepare for my certification exam?

What happens after I take the exam?
Download this free guide today and empower yourself with more knowledge so you can begin your journey with confidence.