Arizona professionals now have another certification option in growing field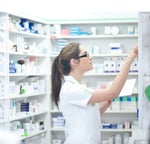 LEAWOOD, Kan. (December 6, 2016) – The state of Arizona now recognizes National Healthcareer Association's (NHA) Exam for the Certification of Pharmacy Technicians (ExCPT®) as an approved certification, meeting the licensure requirements of this growing field. Prior to the Arizona State Board of Pharmacy (the Board) approving the ExCPT on November 17, the state recognized only one certification program.
The ExCPT provides a national credential as a certified pharmacy technician (CPhT). Through certification, pharmacy technicians demonstrate knowledge and competency in the core tasks they will be performing, which in turn enhances patient safety. Because most employers seek applicants who have earned a pharmacy technician certification, and many mandate it as a required qualification, earning this credential from NHA also helps job candidates secure employment. In Arizona, certification is required for all pharmacy technicians. With the Board's approval of the ExCPT, those entering the pharmacy technician profession in Arizona, for the first time, have a choice of CPhT certification programs.
"As an Arizona pharmacy technician and after 10 years of hard work, I am very pleased that the Board now recognizes the ExCPT exam as a means of certification for pharmacy technicians in Arizona," said Anita Benavidez, pharmacy patient advocate for Banner Health and member of the ExCPT Certification Governance Board. "Having a second exam will open up many doors that have previously been closed, or may be closed to pharmacy technicians in Arizona if only one certification provider is available."
During discussions by the Arizona State Board of Pharmacy, Board members cited the psychometric soundness, relevance and high quality of the NHA ExCPT as critical factors in the decision to approve the exam.
The approval of the ExCPT certification program provides greater access to pharmacy technician jobs in Arizona, where demand for these critical healthcare positions is growing. According to the U.S. Bureau of Labor Statistics, Arizona employed more than 9,000 pharmacy technicians as of May 2015 – a number that is expected to grow more than 25% over the next decade. Ensuring that there are enough qualified pharmacy technicians is essential, since the Bureau estimates that more than 400,000 pharmacy technicians will be needed in the United States by 2024.
"The Arizona Community Pharmacy Committee (ACPC) supports the Arizona Board of Pharmacy's approval of [the] ExCPT," said Janet Underwood, director, pharmacy affairs, ACPC. "We believe that providing multiple exam options will provide our members and pharmacy technicians freedom of choice in selecting the exam that best suits their individual needs in meeting Arizona's certification requirements."

"We're very excited that the Arizona Board has approved the ExCPT, giving thousands of pharmacy technicians a choice when obtaining certification," said Lyndsey McDonald, director of strategic alliances at NHA. "We have been working closely with the Board for a long time, and this decision is a great example of our shared commitment to upholding rigorous certification standards that assess practitioner competency."
Accredited by the National Commission for Certifying Agencies (NCCA), the NHA ExCPT is recognized by numerous Boards of Pharmacy throughout the United States, including California where it was recently approved. The NHA regulatory and advocacy team works with regulators, legislators, legislative representatives and healthcare professionals to advocate for access to a better future for those pursuing a frontline healthcare career such as pharmacy technician.