Certified Patient Care Technician/Assistant
What is a patient care technician/assistant?
As the elderly population increases, healthcare facilities, hospitals and nursing homes have a great demand for qualified patient care technicians/assistants. Doctors, nurses and other healthcare professionals rely on patient care technicians/assistants to assist with the critical day-to-day care some patients require. As a CPCT/A, you'll provide hands-on assistance to serve patients' basic needs, as well as work alongside other healthcare professionals.
Patients are increasingly requiring special care, sometimes around-the-clock. Needs vary from patient to patient, making it vital that the patient care technicians/assistants has a diverse range of knowledge and skills to provide their basic care.
As a patient care technicians/assistant, you may perform some or all of the following tasks:
Provide basic patient care — bathing, feeding, catheter care
Acquire, distribute and administer patient care supplies
Perform safety checks and ensure cleanliness in patient rooms
Accommodate the special needs of patients accordingly
Obtain EKG readings and monitor vital signs
Perform phlebotomy procedures
Provide emotional support to patients and families, particularly coping with grief and death
Essential Skills for Success in Civilian Healthcare
In recent research, employers suggested that many patient care technicians/assistants need to develop some specific essential skills. Emphasizing skills you developed through your extensive military training can help you successfully take on a medical assistant role in a civilian healthcare practice. The top five skills employers emphasized include:
Clinical experience
Critical thinking
Professionalism
Patient communication
Safety and compliance


Demand for Patient Care Technicians/Assistants Across the US
Across the U.S., patient care technicians/assistants are in high demand. Project growth for this profession 29% by 2026, according to the Bureau of Labor Statistics. Below, you can see demand for patient care technicians/assistants, state-by-state.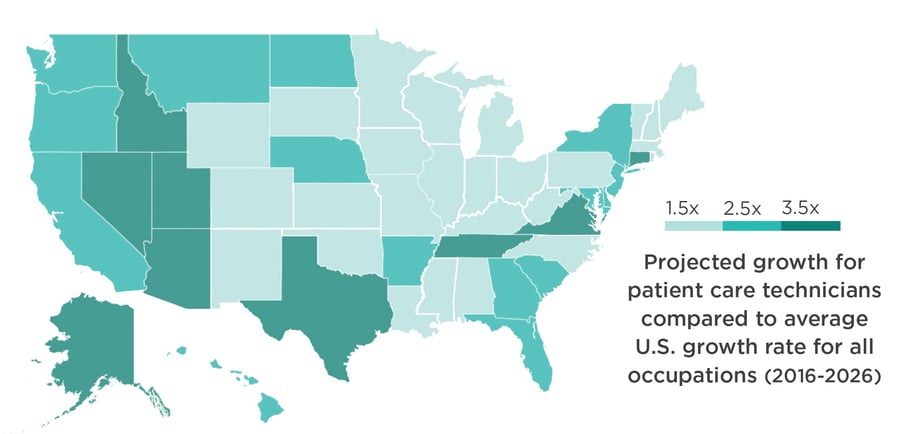 Level Up with Stacked Credentials and Certificates
Stacking your credentials and earning specialty certificates can increase job opportunities available to you in allied health. By earning more than one credential or certificate, you show potential employers you're willing to go the extra mile. It proves that you're work-ready in multiple areas, making you a versatile employee and an asset to their organization.
Many medical assistants stacking the following credentials with their CPCT/A credential:
Certified Electronic Health Record Specialist (CEHRS)
You can also consider earning specialty certificates in:
Reference:
State Growth Rates: Projections Managing Partnership (PMP) funded by a grant awarded by the U.S. Department of Labor. (2018).
Download Your Guide
Learn how you can use your military benefits to earn your credentials.