Certified Clinical Medical Assistant
What is a medical assistant?
A clinical medical assistant is a multi-skilled allied health care professional that specializes in procedures commonly performed in the ambulatory health care setting. Medical assistants perform both clinical and administrative duties and assist a variety of providers including physicians, nurse practitioners and physician assistants. They typically work in medical offices, clinics, urgent care centers and may work in general medicine or specialty practices. Having a nationally accredited certification, like the CCMA, can help you stand out. Certification may also be required or preferred for certain job opportunities in the profession.
Many organizations are now offering career laddering opportunities for medical assistants with elevated responsibilities and pay. Elevated roles may include those of a scribe, health coach, patient navigator, population health manager and patient care coordinator.
Common duties of a medical assistant include administrative and clinical tasks, including:
Checking patients in and out upon arrival and departure
Answering phone calls and questions
Assisting providers with exams and procedures
Administering injections or medications
Working in the electronic health record (EHR)
Performing EKG, phlebotomy, and laboratory procedures
Taking patient vital signs


Essential Skills for Success in Civilian Healthcare
In recent research, employers suggested that many clinical medial assistants need to develop some specific essential skills. Emphasizing skills you developed through your extensive military training can help you successfully take on a medical assistant role in a civilian healthcare practice. The top five skills employers emphasized include:
Clinical experience
Patient communication
Critical thinking
Professionalism
Time management


Demand for Medical Assistants Across the US
Across the U.S., medical assistants are in high demand. Project growth for this profession 29% by 2026, according to the Bureau of Labor Statistics. Below, you can see demand for medical assistants, state-by-state.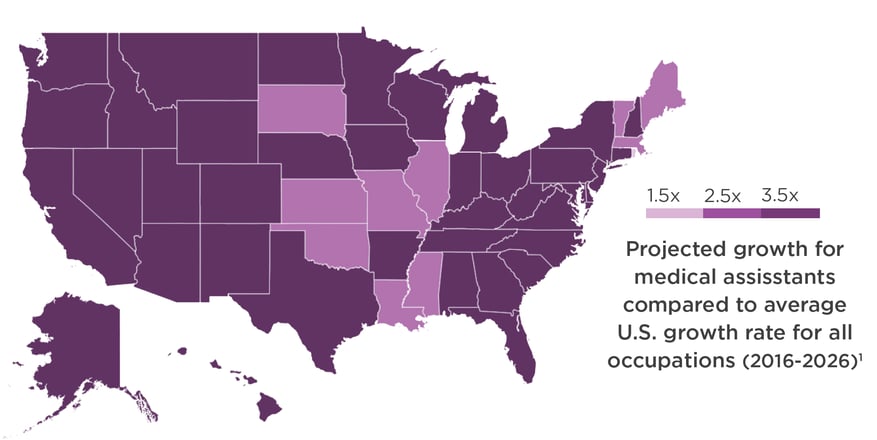 Level Up with Stacked Credentials and Certificates
Stacking your credentials and earning specialty certificates can increase job opportunities available to you in allied health. By earning more than one credential or certificate, you show potential employers you're willing to go the extra mile. It proves that you're work-ready in multiple areas, making you a versatile employee and an asset to their organization.
Many medical assistants stacking the following credentials with their CCMA credential:
Certified Phlebotomy Technician (

CPT

)
Certified EKG Technician (

CET

)
Certified Patient Care Technician/Assistant (CPCT/A)
You can also consider earning specialty certificates in:
Reference:
State Growth Rates: Projections Managing Partnership (PMP) funded by a grant awarded by the U.S. Department of Labor. (2018).
Download Your Guide
Learn how you can use your military benefits to earn your credentials.