In the wake of COVID-19, programs across the country have made the shift to online learning. These programs, their instructors and students face a number of challenges, with access to internet and technology being one of their most pressing issues.
During the Community Connect Forum: The 5 "E's" for Success in Online Learning, we asked participants, instructors who have recently switched to online learning, how their students accessed internet and technology. According to these instructors, the most popular way that students access the internet is through their smart phone. Plus, 18% of instructors reported that some of their students have no access to internet at all.
How do students access online learning?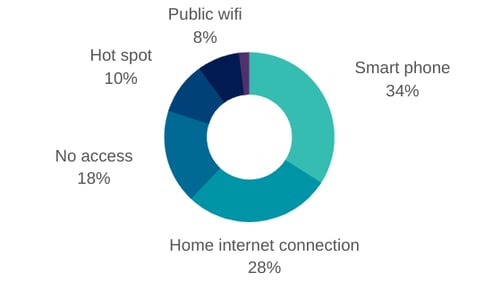 Unfortunately, there's not a single answer that will solve this problem for all students across the U.S. However, there are a number of companies trying to help customers in their service areas. Here are some resources to help you find potential solutions for your local areas.
1. Keep Americans Connected Pledge
A number of companies have signed the "Keep Americans Connected Pledge," and some have even gone above and beyond to help consumers access internet. Read the list of companies here.
2. EveryoneOn.org
EveryoneOn has a mission of creating social and economic opportunity by connecting low-income families to affordable internet service and computers, and delivering digital skills trainings. You can search for service providers by zip code to find resources for your students.
3. PCs for People
PCs for People is a non-profit organization centered on getting low-cost computers and affordable broadband internet into the homes of low-income individuals. As a Microsoft Registered Refurbisher, they provide refurbished desktop and laptop computers with licensed copies of Windows 10. You can determine your eligibility on their website.
4. Connect All, powered by InterConnection.org
Since 1999, InterConnection has been working to reduce e-waste while working to increase access to technology in low-income communities. Qualifying nonprofit organizations and low income individuals can purchase affordable computers through their store.