Meet the modern military family: a family that often has two working parents (one serving, one in a civilian job) with two incomes, living off-base among their civilian neighbors.
Military families are a diverse subset of our American culture, mainly living off base, within communities across the country. However, not many people know how their lives may be different. These families face a unique set of challenges as their loved ones serve our country.
You might imagine that moving every few years makes maintaining a career challenging, and you would be right. Of over 10,000 military families surveyed, 45% said that military spouse employment was a top issue for them, with "time away from family" being the only higher concern reported.1 Their concern is cemented by the fact that nearly a quarter of military spouses are unemployed2, six times the national average of 3.5%.3
Military families make significant personal sacrifices for our country. They frequently move, often with children who must go through the stress of switching schools. They can be financially strained, and spouses often struggle to maintain and grow a successful career of their own.
Military spouses will go to great lengths to maintain a career, provide for their families, and continue their professional development. But with their career comes specific education criteria, and sometimes state license requirements. Transferring a professional license, as required for many healthcare professions, across state lines every three to five years is costly, time-consuming, and downright confusing. Although there are laws in place to make this easier, challenges remain in adoption by all states for every profession. Plus, the process of transferring a license is not the same from state to state.
For military spouses who are drawn to the healthcare field, achieving a national credential can help make obtaining employment during multiple moves a viable option.
Military spouses serving in healthcare careers
Military spouses, by their nature, are drawn to service professions. A significant portion of military spouses are educators, healthcare providers, social workers and mental health providers.
Blue Star Families, the nation's largest grassroots nonprofit supporting military families, has a unique perspective on why credentialed healthcare careers (versus licensed) potentially provide military spouses with easier access to employment regardless of location.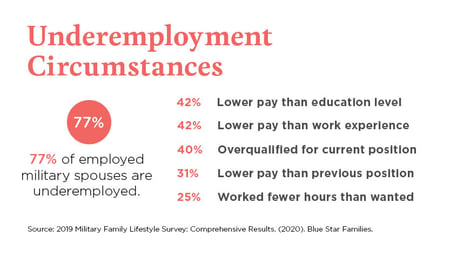 "Ten years or so ago, industry leaders collaborated to make veteran hiring a priority. We need that same focus today for military spouse unemployment so that we can reduce the greater than 20% unemployment rate," said Denise Hollywood, chief community and programs officer for Blue Star Families.
One of Blue Star Families' programs, Spouseforce, creates connections between military spouses and those invested in helping improve employment opportunities for them. These connections include training and education partners, employers, and more. Some of the members of Spouseforce provided perspective on how working in credentialed healthcare careers has enabled them to support their families.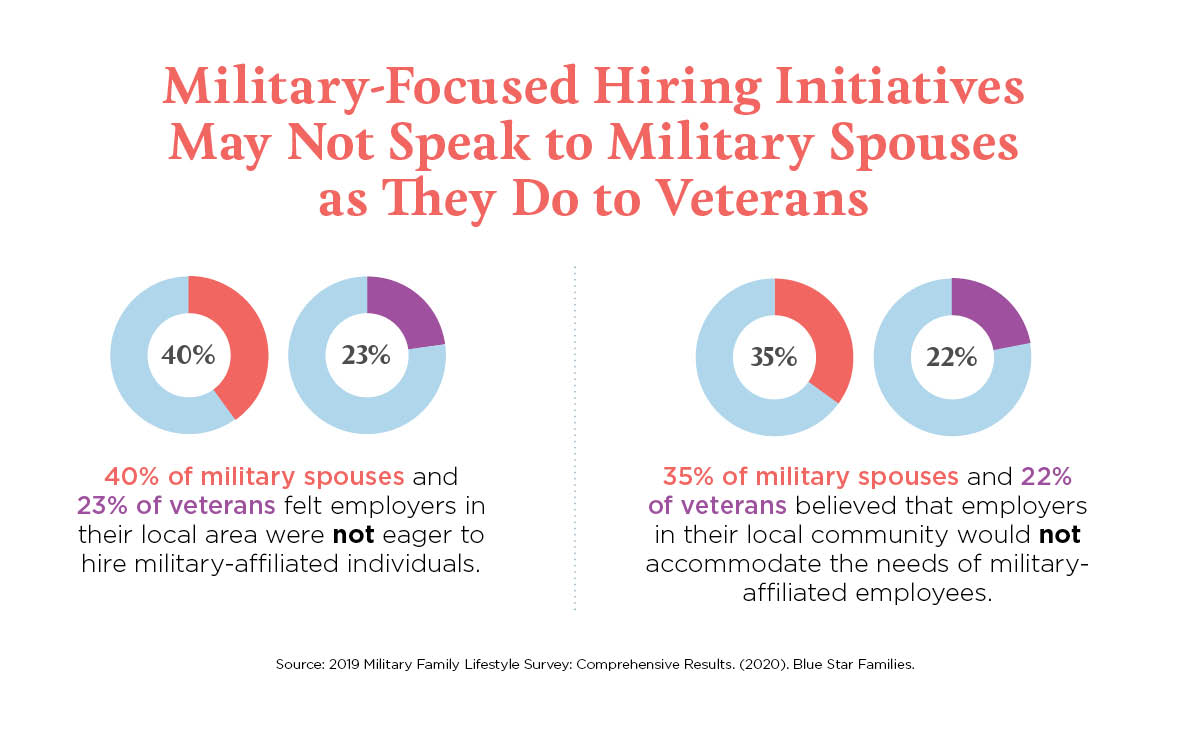 Perspectives from spouses
Myni, an Army spouse, has moved several times both across state lines and overseas. She is credentialed as a health information professional, a career that is recognized in every state. Myni's credentials include RHIA, RHIT, CCS, CCS-P, CCA, among others. Because of the adoption of electronic health records, ICD-10 codes, and the demand for an information-based health system, she is excited that her profession is now in the spotlight and will continue to grow.
Another spouse working as a pharmacy technician reported that her profession allows her to work in the pharmacy field and around patients enough to feel connected to them, while also allowing her to grow professionally. Because pharmacy technicians are in demand across the U.S.,4 national certification makes it easy to find a new job when spouses must move.
Employment for military life
According to participant survey responses from the Spouseforce program, over 30% of military spouses are willing to be retrained into career fields that are more compatible with military life.5 Not only would this allow military spouses to continue to use their professional skills, but retraining into a healthcare field can also help put a dent in the high rate of unemployment this group faces. Plus, this could provide much-needed relief to the current workforce shortages in the healthcare industry.
There are some programs and resources designed to help military spouses access career training in healthcare and many other industries. One of the most popular programs, My Career Advancement Account (MyCAA), provides up to $4,000 of tuition assistance to eligible military spouses seeking education, professional certifications or licenses so that they can work in a specific career field. The newly created Hiring Our Heroes Military Spouse Fellowship Program (MSFP) from the U.S. Chamber of Commerce connects its fellows to participating companies that provide professional training, networking, and hands-on experience in the civilian workforce.
Using programs like these, military spouses can gain the knowledge and skills needed for employment in the civilian workforce as well as earn nationally-recognized healthcare credentials for high-demand professions, including medical assisting, phlebotomy, pharmacy tech and more.
This combination of skill, knowledge, and a portable national credential paves a career pathway for military families, no matter where their journey takes them.
References
Sonethavilay, Hisako, L.S.W., Rosalinda V. Maury, M.S. et al. Blue Star Families Military Family Lifestyle Survey: Comprehensive Report. 2018. Retrieved on January 28, 2020 from https://bluestarfam.org/wp-content/uploads/2019/03/2018MFLS-ComprehensiveReport-DIGITAL-FINAL.pdf
Dorvil, Malikah. Office of People Analytics. 2017 Survey of Active Duty Spouses (2017 ADSS). 2017. Retrieved on January 28, 2020 from https://download.militaryonesource.mil/12038/MOS/Surveys/2017-Survey-of-Active-Duty-Spouses-Overview-Briefing.pdf
U.S. Bureau of Labor Statistics. Graphics for Economic News Releases: Civilian unemployment rate. 2019. Retrieved on January 28, 2020 from https://www.bls.gov/charts/employment-situation/civilian-unemployment-rate.htm.
U.S. Bureau of Labor Statistics. Pharmacy Technicians: the Bureau of Labor Statistics Occupational Outlook Handbook. 2019. Retrieved on January 28, 2020 from https://www.bls.gov/ooh/healthcare/pharmacy-technicians.htm.
Blue Star Families. Spouseforce Program. 2019.