At its core, Career and Technical Education (CTE) prepares students to enter the workforce job-ready in growing fields such as healthcare. The reality is that CTE goes far beyond this one goal, providing pathways for upward mobility into many professions that do not require a four-year college degree. Today, CTE health science programs exist across the U.S. in urban, rural and suburban settings, providing both high school students and adult learners with access to specialized technical training.
Participating in CTE health science programs opens up opportunities for all types of students. It helps them discover a wide variety of healthcare career options, from providing clinical support as part of a patient care team to managing administrative tasks critical for a successful healthcare business. This experience allows them to determine whether healthcare is a career path they might enjoy. Be sure to read about NHA Scholarship winner, Samaria Ramos, of Chicago, Illinois, whose early start in healthcare has put her on a very promising career path.
CTE health science programs can also help college-bound students create a pathway to success. Earning an accredited national industry credential through a CTE program creates a competitive edge for students, strengthening their college applications.
With increasing tuition rates for post-secondary education, many students need financial assistance to make their education goals a reality. In many districts, especially in rural areas, CTE programs provide dual credit for some classes, helping students earn college credits before graduating high school. Plus, after receiving a national certification, students can access employment opportunities while they are furthering their education. Not only do students earn money while they are learning, but some may benefit from employer-based tuition assistance.
"Many of the students in our program use these courses as a stepping-stone to higher education in the same or related fields. They have used their certifications as a means to get part-time jobs while in school for a higher degree," says Michelle Lynne, MSN, family nurse practitioner, Biomedical and Medical Sciences Academies, nursing program director and department chair at Lake Worth Community High School in Lake Worth, Florida.
For individuals who have barriers to post-secondary educational opportunities, CTE programs can be the lifeline that helps them create a plan for work after high school. Participation exposes students to career paths and employers looking to develop talent pipelines for important healthcare roles many students never knew were available to them. This is especially true for schools in densely populated metropolitan areas that are challenged to stretch resources to serve large student bodies. According to our Career and Technical Education Pathways Survey, those schools offering CTE programs see a 5.7% increase on average in high school completion. Plus, 55% of students in urban schools who participate in CTE health science programs head directly into the workforce.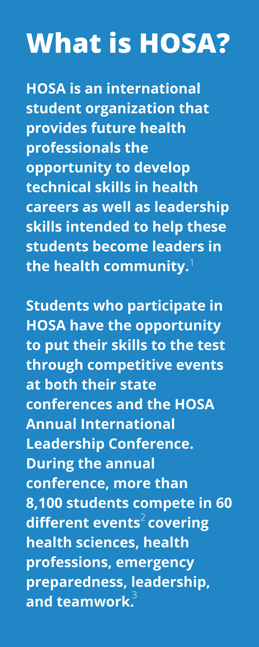 Students experience rigorous learning through CTE health science programs, which also provide unique experiential learning opportunities. From externships to simulation learning to competing in events at HOSA – Future Health Professionals, students gain practical and professional skills that will serve them no matter the path they take.
"Our students are employable in positions such as pharmacy technicians or medical assistants as soon as they complete their program and graduate from high school. They know that their employers will support them via tuition reimbursement, as they pursue further education for mid- and high-level career growth," says Kyle Backer, a communications specialist for West-MEC, which has an extensive CTE program with campuses across many different communities in Arizona.
NHA's recent Career and Technical Education Pathways Survey gathered insights from more than 130 CTE educators across the U.S. to better understand the impact of CTE programs in different types of communities. This survey sought to uncover the needs of urban, suburban, and rural communities and how CTE programs are addressing those needs while preparing students for their future endeavors. The results shown on the following pages demonstrate the real value CTE health science programs provide to students regardless of their community setting or career path.

Research methodology
The Career and Technical Education Pathways Survey was structured to assess the opinions of CTE health science program directors and educators regarding the impact of CTE programs on their districts. This survey was distributed to NHA customers working in CTE programs. The survey was in market December 9, 2019 through December 18, 2019 and evaluated the opinions of 136 respondents. NHA analyzed the data by looking at averages of responses based on district setting: urban, suburban, and rural.
You can read the research and gather great insights from CTE educators in communities across America by clicking below.
References
HOSA. About HOSA. (2012). Retrieved on February 4, 2020 from http://www.hosa.org/about.
HOSA International Leadership Conference. (2018) Participate. Retrieved on February 4, 2020 from http://ilc.hosa.org/participate.
HOSA. Competitive Events Guidelines (2012). Retrieved on February 4, 2020 from

http://hosa.org/guidelines

.