Allied health professionals, which make up more than 60% of the healthcare industry workforce, play a critical and often behind-the-scenes role in caring for patients and ensuring that the flow of patients operates efficiently within healthcare institutions. Our communities depend on well-trained allied health professionals to ensure timely, quality care for patients, but currently, most communities across the United States are experiencing a shortage in the workforce.
The growing demand for allied health workers places pressure on employers, who collectively believe that allied health professionals are critical to the success of their organizations. Employers understand the value that allied health workers bring to each interaction in the healthcare setting, further underscoring the growing need to attract the best professionals into healthcare careers.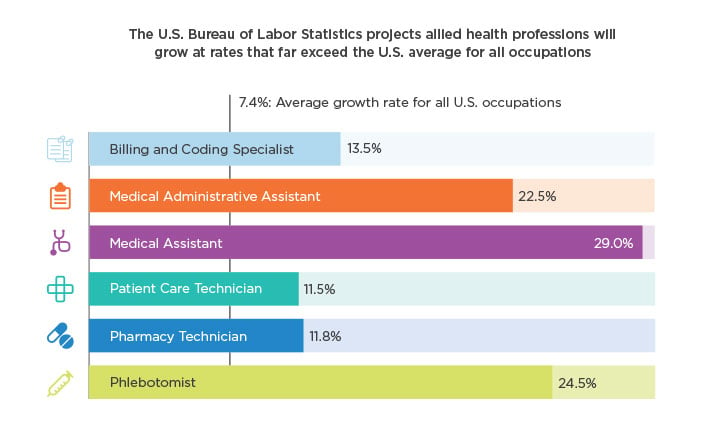 The 2019 Industry Outlook gathered insights and data from employers, seeking to understand the attributes of their most successful allied health professionals. This research sought to uncover actionable information for educating, hiring, developing and advocating for allied health professionals. Ultimately, this research sets the stage for making a change toward a better future, for allied health professionals and patients, alike.

Certification provides value for professionals, employers, and ultimately, patients.
Today's healthcare environment demands efficiency and efficacy from each employee at every level. At NHA, we believe certification leads to better healthcare. Allied health professionals who earn credentials demonstrate their command of foundational occupational knowledge.
Employers believe that certification can positively impact their institutions, reporting that professional certification provides credibility, improves the standard of care and improves patient safety. It's no surprise that for these reasons, employers continue to encourage employees to have or obtain professional certification.
Despite seeing value in certification, employers still believe that there's room for skill development in newly certified allied health professionals. As we work toward improving healthcare for our communities, we also need to consider how we support and develop those who serve at the front-line and behind-the-scenes. Educators and employers should consider how to grow hard and soft skills in ways that will benefit the individual professional, the healthcare institution and ultimately, patients.
At NHA, we believe it's our responsibility to advocate for allied health professionals. We commit to doing so by partnering with the healthcare community to create learning resources that can begin to address skill development through innovative ways that better connect the learners' knowledge to real-world application.