NHA P360 Vitals™ could be the secret sauce for remediation planning in remote and hybrid learning environments. If you are using NHA online exam preparation materials as part of your instruction— you already have access! Its powerful analytics allow you to see inside the study habits and comprehension levels of your class, at both the cohort and individual level.
Think of this tool as your assistant coach for the classroom. Based on data gathered from the many quizzes and activities inside the study materials, P360 Vitals will help you group students of similar skill or comprehension levels and then makes data-backed recommendations on what content areas they should focus on.
#1: Let the collaborative learning begin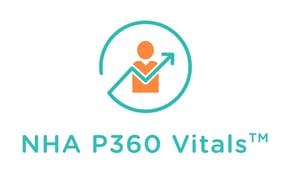 NHA Vitals P360™ will help you easily identify students who are high performers in certain content areas compared to others. Form a study session that pairs these students with those who are struggling and ask them to host a group chat or study session. Peer-to-peer teaching can be an effective way to enhance learning and build confidence among groups.
#2: Lean on the visuals to show progress
For the visual learners in your cohort, it's important for them to see their progress. They can see their individual performance scores, and you can also share the classroom view (without sharing personally identifiable results, of course). You can even track and share progress, so the class can see how their hard work is paying off as they become more exam-ready with time.
Each module's progress is visualized as either gray (not started), yellow (in progress), or green (complete). When students spend more time inside the modules, they will see their hard work accounted for in real-time.
You can also use the data to see what kind of natural pacing is happening. Pair students together who seem to go through the materials at a similar pace. As the instructor, you have the ability to make assignments inside the preparation materials and by grouping them, you can provide a more individualized experience.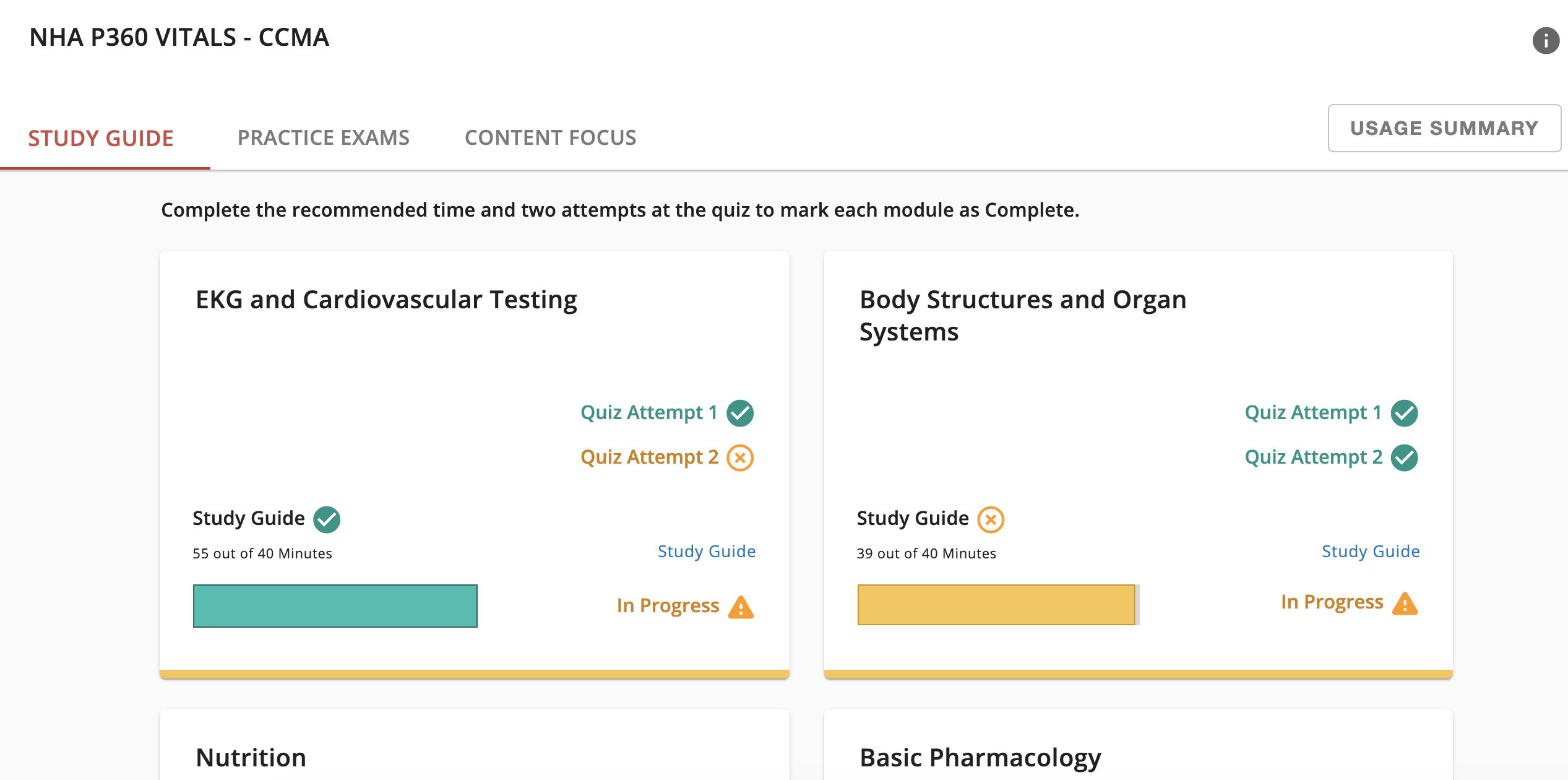 #3: Stop guessing on remediation topics
Use the data to make decisions for remediation opportunities in large groups, in small groups or even for individuals. As students are preparing for certification, Vitals can do the time consuming work of monitoring progress and identifying weaknesses. The plan is served to you in the form of Content Focus.
In this section, each module is displayed and ordered by performance from lowest to highest, and each links directly to the Focused Review® where you can see your personalized report that details content you may have missed on your practice tests.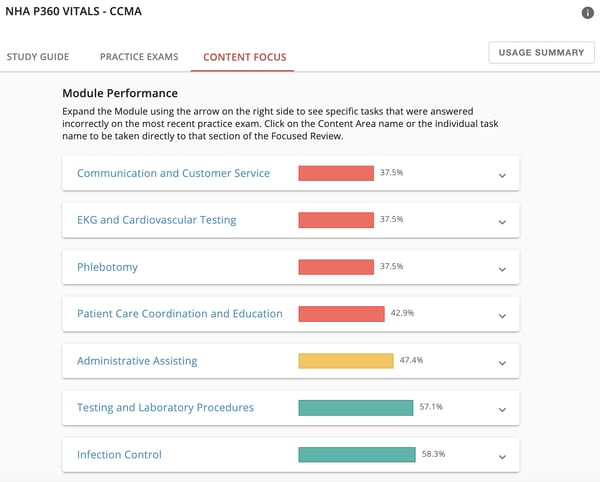 Need a NHA P360 Vitals™ refresher?
There are many additional benefits, time savers, tips and tricks to optimize your Vitals experience. This tool should work for you to improve your in-class activity, even when it's online. Using Vitals can also give your students the confidence they need to sit for a certification exam. Do you need a refresher to optimize your use of this analytics tool?