A surprising shift in career plans for a recent high school grad led to fulfilling work helping others.
Jordan Perry is a 19-year-old recent high school graduate from the small town of Naugatuck, Connecticut. For most of his life, he dreamed of going to culinary school, but fate had different plans. Life's timing, some encouragement from a supervisor, and a ruptured appendix led him into the healthcare field. He's currently a patient care technician at the same hospital where he had the surgery that changed his perspective, and he's never looked back. "I found this career by accident, and it turned out to be the best decision of my life," he says.
Culinary school was always Perry's plan. After graduating from a technical high school where he was on the culinary track, unforeseen circumstances put a temporary hold on his culinary aspirations. He was working in a restaurant when one day, he fell to the ground in severe pain. He would soon find out it was the result of a ruptured appendix. That was the moment things began to change.
After surgery, he took a step back. With the encouragement of his restaurant manager, he did a little soul searching and realized he wanted to make a difference. He began his research, and one of the first programs he found was at Griffin Hospital, which was the hospital his family had trusted and relied on for years. With little hesitation, he called to find out more about the patient care technician training program at the Griffin Hospital School of Allied Health.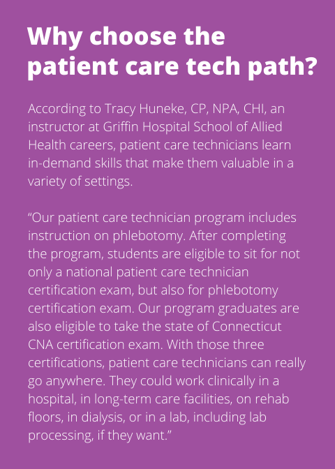 Perry was a little unsure at first. Culinary school was a far cry from healthcare. After an initial interview at Griffin Hospital, he followed his instinct and decided to go for it. "I didn't think I was smart enough to know anything medical related until I took a chance," he says. "Week by week, I kept getting more confident … towards the end of the program, that's when I thought, 'You know what? Maybe I can do this.' And then I started falling in love with it."
However, culinary school was still on his mind. After completing his program at Griffin Hospital, timing lined up, and he went to New York to take culinary classes as originally planned. He was only two weeks into the program when he knew he belonged in healthcare. "I knew in my heart that I was supposed to be at the hospital," Perry says.
Perry quickly returned to Connecticut and took two certification exams—the Certified Patient Care Technician/Assistant (CPCT/A) exam and the Certified Phlebotomy Technician (CPT) exam. He passed both, securing a full-time position at Griffin Hospital. Now, he's making a difference in the lives of patients and his coworkers.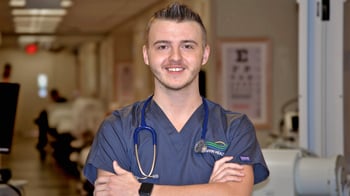 "Perry has a really positive attitude. The staff loves him, and he loves what he does. You can see it in the way he does his job. He has great instinct and always communicates when he has a concern about a patient," says Rob Signor, a manager over patient care technicians and Perry's supervisor at Griffin Hospital.
Perry says it means the world to him to know that he's making a difference in people's lives. He's now on a career path that will help him continue to help patients. He plans to earn his bachelor's degree in nursing so he can advance his healthcare career.
"You never know what you're capable of," Perry says. "Honestly, I had thought I was going to be a chef my entire life leading up to my appendix rupturing, and the allied health school changed that completely… Now I have a whole life of experiences that are coming my way, and I can't wait for those to happen. I can't wait to make a difference."