Empowering professionals through certification is at the heart of our mission, and we regularly conduct industry research to ensure the content and exams we provide to current and future certification holders are relevant and keep up with industry trends.
Recently, we looked at the current state of the EKG technician profession — and what's to come in the future. During this research, we surveyed and interviewed working EKG technicians across the country. Here's a what we learned.
An EKG technician doesn't have to have "EKG" in their job title
An electrocardiogram (EKG) technician uses monitoring equipment to help physicians test patients' hearts. Some of their tasks include:
Preparing patients for various cardiovascular tests
Reporting findings to physicians who make decisions based on the results
Maintaining equipment
Skilled EKG technicians could work exclusively as cardiovascular technologists or perform EKG readings as part of their duties as a patient care technician, medical assistant or other members of the care team. These professionals work under the direction of a physician in hospitals, physicians' offices and diagnostic labs.


Job titles for those with EKG/ECG technician skills could include:
EKG Technician
Monitor Technician
Telemetry Technician
Biomedical Equipment Technician
Certified EKG Technician
What's the job outlook?
According to BLS data, job opportunities for cardiovascular technologists and technicians across specialties is expected to grow by 14% through 2028, with a 2018 median salary of $58,730, based on skills and experience.
Some factors driving this growth include:
Aging baby boomers
Rapidly-evolving imaging technology that is replacing more expensive and invasive procedures
Dropping prices in technology which makes it affordable to medical providers outside of hospitals (so doctors' offices and diagnostic facilities need EKG technicians as well).
EKG technician education and training trends:
While some EKG technicians receive their training on the job, our research found that 75% complete certificate programs which include dysrhythmia courses and earning credentials such as Certified EKG Technician (CET).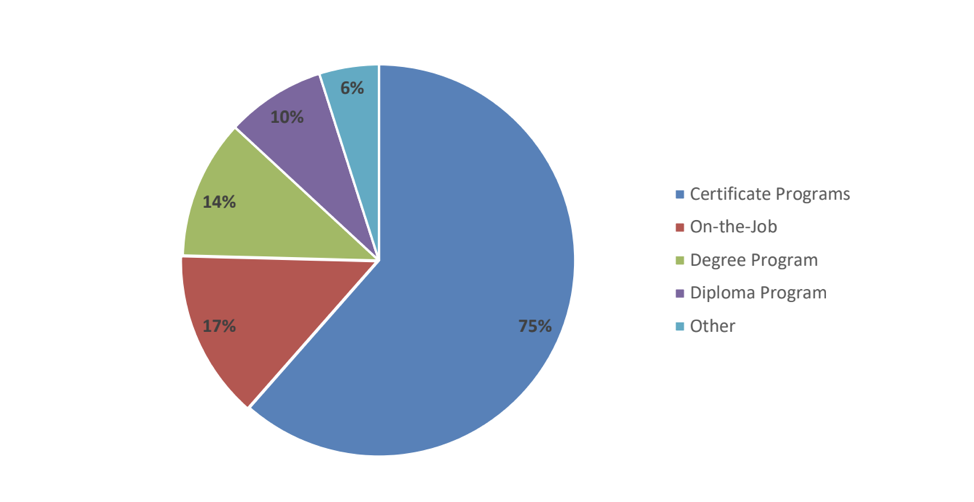 We also found that certified EKG technicians with stacked credentials (certified in more than one specialty) are expected to have better job opportunities.
So which credentials are best to stack?
Here's a list of the most common NHA certifications being combined with EKG Certification (CET):
Growth opportunities for current EKG technicians
When determining how to enhance your training programs think about what it would take to build in additional skills training to help learners become eligible for multiple certification exams. There are many careers in the medical field similar to EKG technicians that a CET could bridge into with additional training/schooling, such as:
Medical Laboratory Technologist
Nuclear Medicine Technologist
Radiation Therapists
Considering bringing EKG into your health sciences certification programs? Do you want to provide career laddering opportunities to your employees?
If you are an employer, get started here!
If you are an educator, get started here!