Organizations in every industry, including healthcare, now recognize the importance of building essential soft skills in their employees to harness the broader business benefits. Commonly referred to as "people" skills, essential skills or interpersonal skills, soft skills and attributes are just as critical to success. In fact, ten of the sixteen 'crucial proficiencies in the 21st century' identified by the World Economic Forum are non-technical.
To help you have a better understanding of the true impact of soft skills in healthcare, we're sharing research on some of the most important soft skills that healthcare workers need to master.
Communication impacts patient safety
Patients and other healthcare team members depend on clear communication. Whether it's the first phone call to a physician, discharge instructions, or prescription clarifications at the pharmacy, communication plays a critical role in every step of a health journey. When healthcare workers are not effective communicators, it can negatively impact patient safety.
Caregiving transitions either during shift changes or between care locations are often where communication failures happen that directly cause patient harm. These types of interactions between healthcare workers share critical information about the patient's status and plan of care. If there is any miscommunication, patients may experience delays in treatment or inappropriate therapies. Approximately 28% of surgical adverse errors can be attributed to errors during these types of transitions.
Research also shows that poor communication of medication name, dose, and timing of administration between physicians, pharmacists, nurses, and patients can lead to potentially dangerous medication errors.
Interwoven with communication skills is teamwork. Discussing patient information with medical team members and other professionals (e.g., health insurance providers), is central to working in healthcare. Clinical care is becoming more complex, requiring medical teams to manage patients suffering from multiple health issues. Healthcare is a multidisciplinary profession in which doctors, nurses, and health professionals from different specialties must collaborate by working together, communicating often, and sharing resources.
Empathy plays a part in patient outcomes and satisfaction
The ability to understand the feelings and needs of patients and their families can help healthcare workers provide better care and service, and some research indicates that empathy has a significant impact on patient results.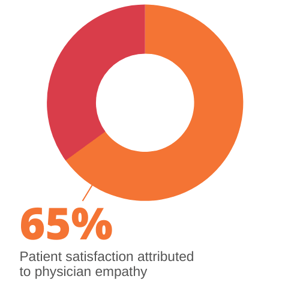 A 2016 study from the American Academy of Orthopaedic Surgeons linked patients' perceptions of their physician's empathy with improved outcomes and medical care satisfaction. In fact, 65% of patient satisfaction was attributed to physician empathy, according to the study.
Furthermore, it also helps when surgeons employ staff who are both naturally skilled and proficiently trained in effective communication and customer care.
Comprehensive Skill Sets for Healthcare Workers
The healthcare landscape has become increasingly complex. Healthcare organizations today have to operate as an efficient and effective business in order to continue serving patients, and that starts with ensuring the workforce has a comprehensive skill set that includes both clinical skills and soft skills. Effectively investing in improving healthcare employees' essential soft skills brings significant benefits – to workers, businesses, and the overall economy.
Everyday, patients experience healthcare in a variety of settings—hospitals, urgent care centers, primary care practices, pharmacies, labs, and many more. No matter the setting, soft skills are often the memorable aspect from the patient's encounter, influencing their overall experience rating. With patient satisfaction remaining a top priority for many healthcare institutions, patients are frequently surveyed to better understand their experience. The widely-distributed Centers of Medicare & Medicaid Services (CMS) HCAHPS (Hospital Consumer Assessment of Healthcare Providers and Systems) patient satisfaction survey includes questions that address soft skills:
During this hospital stay, how often did nurses/doctors treat you with courtesy and respect?
During this hospital stay, how often did nurses/doctors listen carefully to you?
During this hospital stay, how often did nurses/doctors explain things in a way you could understand?
Before giving you any new medicine, how often did hospital staff describe possible side effects in a way you could understand?
Patients' responses to these questions enable employers to evaluate whether patient needs are being met by healthcare team members and identify areas for quality improvement. Team members who are mindful of the correct and positive use of soft skills help employers to reach their quality improvement and patient satisfaction goals, among others.
Strategies for Developing Healthcare Workers' Soft Skills
The first step in developing employees' essential soft skills is to determine which soft skills are lacking. Defining the skills that are lacking gives healthcare workers and their managers the opportunity to develop an improvement plan for those skills. Any improvement plan should be very clear about why the skill is important, provide reasoning for why it should be learned or improved and explain the framework for developing the skill.
The next step is to form a habit by practicing the skill daily. With some skills, it is easy to quickly develop a habit, while others may take more time. For example, if a healthcare worker lacks time management skills, then he or she can schedule time daily to focus and practice proper planning and organization. Forming a habit of focusing on time management helps develop dependability, an essential skill valued by healthcare employers.
Finally, bear in mind that mastering soft skills is an ongoing process; it must continue throughout the healthcare worker's career. Specific personal interactions, situations, an emotional state, or external circumstances are triggering factors that affect the use of soft skills. Continuing to work on soft skills in varying situations – stressful and ordinary—help healthcare providers build strong soft skills that will serve them in the most stressful of situations. Careful and deliberate development of soft skills creates valuable healthcare team members but also an environment to provide excellent patient care.
Helping healthcare workers build and apply essential soft skills is important, but these skills can be difficult to teach. PersonAbility™ from NHA offers an effective tool that builds on the strengths of virtual simulation training to provide learners with an opportunity to practice at their own pace.