"These students will go into the world, they'll have an impact in healthcare, and they'll be able to alleviate some of the burden on providers right now. To provide well-qualified staff in high-demand fields is very fulfilling!"
— Andrea Maddox, Healthcare Academy instructor at Chelsea High School, Alabama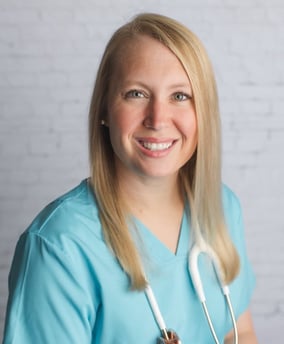 Speaking with Andrea Maddox, BSN, RN, about her health care students will leave you with one feeling, inspired. The 2021-2022 school year is the first that students at Chelsea High School Healthcare Academy could enroll in Maddox's Health Science Internship course, and it's resulted in 10 Certified Patient Care Technician (CPCT) certifications, exceeding the national exam pass rate.
The newest CPCTs from Chelsea High School — pictured above — include Taylor Land, Ava Tumlin, Jessie Holsombeck, Rylee Speed, Grier Reid, Chloe Maliska, Nia Cummings, Jenna Grace Williams, Marin McCulla, Mya Wells (not pictured).
It wasn't easy getting to this point. When Maddox entered her role as a surgical skills lab instructor, there was not a set curriculum written in the state of Alabama for a high school program specifically geared toward training students for operating room positions.
The Alabama State Department of Education officially adopted the Operating Room Foundations course of study in 2020, which was submitted by Shelby County Schools' CTE Department. That same year, Maddox's classroom was renovated to mimic a surgical unit, complete with a simulated operating room, pre-op space that doubles as a recovery room and a small sterile processing area.
NHA Certification
"Our local hospital requires high school students to be credentialed as patient care technicians before they come for their [senior] internshipclinicals," Maddox said, which is where NHA comes in.
Maddox closely followed NHA's Best Practices Implementation Guide and attended NHA webinars to help students prep for their NHA exam. "NHA support, the test plan and best practices set us up for success right out of the gate," Maddox said.
To help prepare for the certification exam, Maddox used NHA's paper and online study guides to help break up the material. "Having different ways for them to study was important simply because everybody studies so differently. It was neat to see them implement the study guide, pair it with the skills they learned in class and watch their confidence grow as they took their practice quizzes," Maddox explained. "It was amazing to see how what was intimidating in the beginning snowball into success. By the time the exam came, they were ready."

Students tested with a proctor outside of their classroom before returning to the classroom to get their results. "It was so neat to see their reaction as they go from their name to their name, CPCT. They have this moment where they go, 'I am now a health care professional!' That is a cool moment for them," Maddox said, smiling. "They were incredibly excited, and so proud of themselves. They worked for it, they earned it and achieved that first milestone in their health care career."
Clinicals and beyond
Following certification, the students attend clinicals at Shelby Baptist Medical Center. In addition to this experience, they attend clinicals at the Heart South Cardiovascular Group for an opportunity to concurrettly study for NHA's Certified Clinical Medical Assistant (CCMA) certification.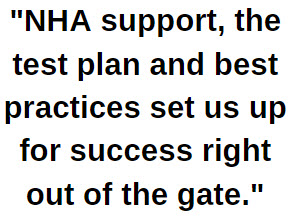 "Many of my students will conceivably graduate in May double certified with CPCT and CCMA certifications. They'll have options in the workforce starting this summer," Maddox said. "I'm thrilled to beat the foundational level of their healthcare careers. To be able to use my experiences in the healthcare field to set them up for success in their future careers, there's no better feeling!"
Visit the NHA Resource Center for on-demand webinars that provide hints and tips for passing NHA exams.