CTE Teacher Builds Region's First Certified Medical Assistant Path for High School Students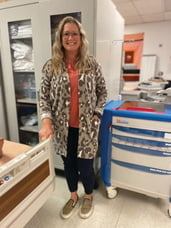 Stephanie never wanted to be a teacher. But a nudge from her sister and a desire to help others led her from a respiratory therapist to the creator of a successful Career and Technical Education (CTE) program. The Medical and Health Science Technology (MAHST) Academy at Apple Valley High School is the only program that can offer certification to high school students in the high desert region.
After 12 years of working in a hospital, Stephanie's sister (an Apple Valley High School teacher) convinced her to teach a couple of health science classes. What started as a couple of classes quickly turned into a passion. Stephanie wanted to help her students access a better future, and to her the path forward was clear: they needed to achieve certification.
There's no instant "on" switch to create a certification-based program that helps students pursue a future in healthcare. Stephanie built the program over the course of a few years, one brick at a time.
Securing Funding
The first brick was securing funding, and the Apple Valley program was selected to receive the Ryan Cambridge Memorial Grant through the Mourning Sun Children's Foundation. The next layer was a partnership with Victor Valley College (the local junior college). After that, Stephanie picked up the phone and called regional health institutions. When someone said "no", she tried a different angle, or asked to speak with someone else.
"They would always say, 'Oh, this sounds so great. But…' And then they would say why they couldn't do it. I just kept calling and asking until I found somebody willing to jump through the hoops," Stephanie said.
Eventually, she got a "yes." And then another "yes." Enough yes's added up brick-by-brick until the program became one of the most desirable high school academies in the area, because it empowered students to gain real experience and valued certifications.
Growth of the Program
Her persistence paid off. The program grew from around a dozen seniors to 350 students — a number they now have to cap because of high demand. Every student takes the CCMA exam their senior year. Last year, Apple Valley students achieved a 76% CCMA exam pass rate. Six months after graduation, 70% of these students were in school to further their medical education, and 13% were working in healthcare.
This year, one of the program's participants Marissa Faria placed first in California SkillsUSA state competition in Medical Assisting and will be competing for a national title and scholarship this summer.
Stephanie said her goal from the beginning was to create more opportunities; to open doors for her students. Coming from a hospital setting, she knew first-hand what they needed to be successful, which is why she was adamant about certification.
How it Works
Students start their freshman year with coursework that focuses on soft skills and professionalism, as well as curriculum centered on communicable and noncommunicable diseases. Their sophomore year they take a CNA course, then study medical terminology their junior year. Seniors take medical assisting, gain valuable experience through internship, and have the option to take an EMT class.
Stephanie said seeing her students succeed is what motivates her. She sees herself as their advocate, and works to ensure they have opportunities after graduating.
"I never wanted to be a teacher, but I know now that is my passion because I love helping kids see their potential. Watching them basically change their life and go on a different path is really rewarding," Stephanie said.