Should healthcare employers be providing training to improve soft skills such as communication? If so, when?
According to a study conducted by global staffing firm Robert Half, 84% of companies are willing to hire and train a candidate who lacks the required skills. The health care field is unique in that the demonstration of technical skills and knowledge through certification is vital and often required. However, soft skills are an area in need of growth that training does not always cover.
In response to this need, health care employers are becoming increasingly invested in providing training to build their teams' essential soft skills and improve the patient experience. The top five most common training methods used, according to our 2021 Industry Outlook, are shown in the graph below.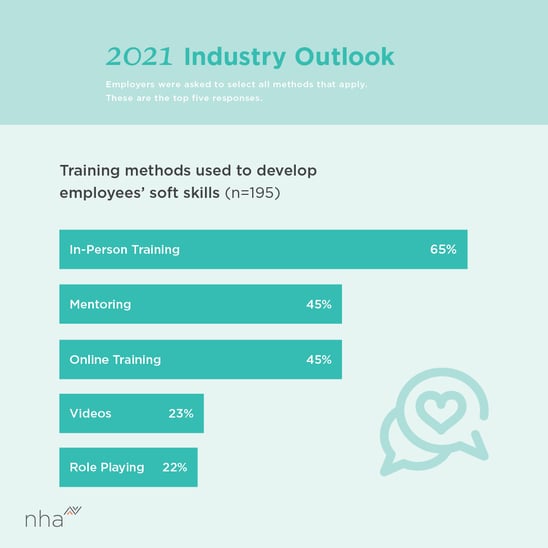 Soft skills training can benefit all health care workers, but the most effective type of training may vary depending on experience. Implementing training efforts for new health care workers and seasoned professionals can make for highly effective communicators. Here's how:
New Health care Workers
Providing essential soft skills training early is optimal. Instead of reframing the way they've "always done things," they'll establish a strong foundation as a valuable member of the healthcare team.
Soft skills to address early include:
Communication skills (verbal, nonverbal, written)

Teamwork

Active listening

Emotional intelligence

Professionalism and personal brand

Empathy and compassion

Taking initiative

Adaptability/flexibility
NHA's PersonAbility™ helps build these essential skills and drive behavior change that can help form stronger relationships and build trust with patients and internal health care teams. Although this training resource is not exclusively for new health care workers, it covers a broad range of topics and sets them up for success.
Seasoned Health care Workers
Health care professionals with more experience, particularly those that have a lot of patient interactions, may benefit from training that takes a deeper dive into specific patient communication strategies. Perhaps they work great with others, and patients generally have positive interactions with them ... but they struggle in more challenging areas such as health coaching, when the goal is to get chronically ill patients to make lasting behavior changes.

NHA's Principles of Health Coaching provides a simple, innovative way for educators and employers of clinical care professionals to help their clinicians build the necessary skills for better patient communication, education and engagement. Using motivational interviewing, health care professionals learn how to effectively serve as a health coach, empowering patients to improve their health outcomes.
A Strategy for Building Highly Effective Communicators
We recognize that soft skills training in health care is highly important right now. That's why we've decided to bundle PersonAbility™ and Principles of Health Coaching™ together, so health care institutions can create a team of highly effective communicators who not only demonstrate essential soft skills for health care, but who can also effectively motivate patients.