At NHA, we always strive to provide information to support frontline healthcare workers like billing & coding specialists on their path to success, which is why we recently surveyed hundreds of healthcare employers to discover insights to help lead us into 2020 and beyond. We shared a summary of our findings in the 2020 Industry Outlook, available as a PDF download (below) in this year's edition of accessTM: an allied health industry journal.
Below are a few highlights from the report. Be sure to download your copy of the full summary here!

26% of employers said it's difficult to find qualified billing & coding specialists.
This is a growing field, and demand is expected to increase 11% by 2028, according to the BLS. Because of the specialized skills and knowledge required, it can be difficult for some institutions to find qualified professionals to fill this role. Some of the skills employers said newly certified billing & coding specialists lacked include professionalism, time management, and communication. The good news is that 68% of employers report that newly-certified billing & coding specialists are prepared to do their job, emphasizing the importance of certification.
Professionalism, dependability, and critical thinking were identified as the most important soft skills for this role.
These same three skills were also selected as the most lacking, indicating an opportunity for growth. While technical skills appear to be strong—64% of billing & coding specialists are able to reduce payment delays and obtain maximum reimbursement from insurers—soft skills are in high demand throughout the healthcare industry.
The median salary of billing & coding specialists is $40,350.
Salaries in this profession range from $26-66K. Want to maximize your earning potential? 63% of institutions increase pay when an employee earns professional certification, and 83% encourage or require certification.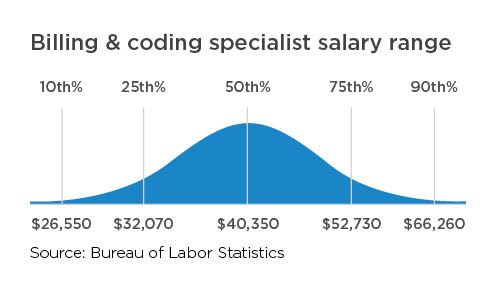 Years of experience isn't as important as knowledge and certification.
When reviewing applicants, employers cited knowledge of billing terminology and Billing & Coding Specialist Certification (CBCS) as the top two screening criteria. This is good news for those who are new to the profession, or who are considering a career as a billing & coding specialist.

It's essential for billing & coding specialists to stay up-to-date as healthcare and technology evolve. Soft skills, such as professionalism, are critical, as is hard knowledge like billing terminology. Certification can prove you have a standard level of knowledge, and by being #NHAcertified, you have access to resources to help you stay current, like our CE library and the 2020 edition of accessTM.
Launch accessTM now to explore topics that are top of mind in the allied health industry today, and download your copy of the 2020 Industry Outlook for more insights like those shared in this post!