Vaccinations help protect children and adults from diseases. Which ones are given when? What happens if a child gets off schedule?
Our latest Continuing Education (CE) series features three separate interactive modules which include immunizations given during different age intervals, types of immunity, barriers to vaccination and more.
Certificate holders can pick and choose which modules they are interested in based on their area of specialty. Each module is freestanding which means you don't need one module to move onto the next.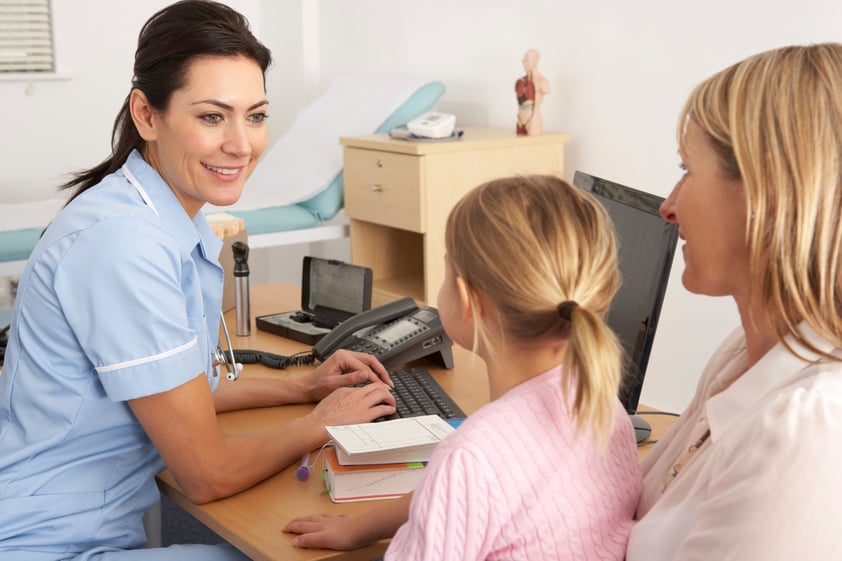 NHA CERTIFICATE HOLDERS: LOG IN TO ACCESS THE MODULE
THIS SERIES INCLUDES THREE MODULES
About the Series
Module 1: Immunizations for Patients from Birth to 18 Months (2 CE Credits)
This module focuses on contagious diseases and associated vaccines for patients from birth to 18 months of age. You'll receive an introduction to immunity concepts and types of immunity. It also includes a review of the key considerations for administering vaccines as well as documentation and billing and coding best practices.
Module 2: Immunizations for Patients between 19 Months and 18 Years of Age (2 CE Credits)
This module focuses on contagious diseases and their associated vaccines for patients from 19 months to 18 years of age. A catch-up schedule of vaccinations for children and adolescents from 4 months to 18 years of age is included, as well as an overview of barriers to vaccination and how to improve patient/parental adherence to immunizations.
Module 3: Immunizations for Patients from 19 Years of Age and Older (2 CE Credits)
This module focuses on contagious diseases and associated vaccines for adult patients age 19 years or older. Recommended vaccines for adults with special health considerations and risk factors are discussed. Information on travel vaccines, Medicare coding, and strategies to improve vaccine compliance are also included.
About the Author(s)

Lisa Roan - Author
Lisa Roan, BS Healthcare Administration, CPC, CRC, CPC-I; Allied Health Education Specialist/Assessment Sciences is an Allied Health Education Specialist with the Assessment Sciences division of Ascend Learning, writing educational materials for certification and continuing education. She earned her bachelor's degree in Healthcare Administration at Loma Linda University of Allied Health. Her background includes more than 20 years experience working in healthcare administration. A certified professional coding instructor, Lisa is passionate about helping adult learners find success in the healthcare industry. Lisa is a southern California native, and can often be found gardening in her backyard.
Deb Johnson-Schuh - Clinical consultant
Deb Johnson-Schuh, RN, MSN, CNE Nursing Instructor, has been a registered nurse for over 25 years. Her work experience includes a variety of settings. For the past 17 years she has worked as a nurse educator where she provides didactic teaching regarding prevention and management of illnesses to nursing students. She also serves as a board member for her local public health department where, through ongoing collaborative efforts, health promotion initiatives for the community setting are planned and implemented.
In the three-part CE series, Roan provides valuable information about immunizations that you can put into action immediately. For further insight, continue reading for an exclusive immunization Q&A with both industry leaders.
Insights on distraction techniques and common errors from Clinical Consultant Deb Johnson-Schuh:
What are some distraction techniques that can be used when administering pediatric immunizations?
There are several distraction strategies that can be used when administering an immunization. These strategies depend on the age of the child. For infants, comfort measures include swaddling or breastfeeding.

Children should be informed about what is going to happen. The use of words such as "shot, pinch, bite" should be avoided and replaced with "put in the medicine." Playing music, blowing bubbles, watching a video, or acting silly are examples of distraction techniques.

A topical analgesic or cooling spray could be used as a comfort measure prior to receiving the vaccine. A prescription may be needed and these measures take a bit of time to work. The use of these measures may reduce the likelihood of developing a fear of vaccines.
What are some common errors that healthcare workers make when working with combination immunizations?
There are several potential errors that can occur with vaccine administration. These include: wrong vaccine, wrong dose, expired vaccine, wrong age, wrong time/interval, wrong route, wrong patient and vaccine/component omission.

There are some vaccines that are combination immunizations. This means that two or more vaccines that could be given individually are combined into one vaccine. Errors that can occur with combination immunizations include mixing and preparation errors (e.g. using the wrong diluent), administering only the diluent and not the vaccine or only administering a single component of a two-component vaccine.
To avoid these errors all staff must receive education and competency training before administering vaccines.
What is some good advice that can be given to reluctant parents who are fearful about vaccinating?
Healthcare professionals and healthcare organizations share responsibility to make education and availability of vaccines occur. Most parents/care providers have questions about vaccines. Unfortunately, they have read a lot of inaccurate information. It is critical to provide access to credible information to make informed health decisions. Education should be provided regarding how vaccines work, vaccine side effects/risks, vaccine ingredients and vaccine safety.
One common concern is the association of autism with vaccination. It is important to reiterate that the Institute of Medicine (IOM) has extensively reviewed all published reports and there is no convincing evidence to support that any vaccine causes autism. Always refer concerned parents and caregivers to the provider if concerns still exist.
Coding Insights for Immunizations from Lisa Roan:
What is one of the most common errors made by staff who code immunization procedures?
A common error made by medical staff when coding immunization procedures is related to administration codes. There are several administration codes to choose from, based on the age of the patient and whether counseling was provided. CMS also uses specific HCPCS codes for the administration of influenza, pneumococcal and hepatitis B vaccines, that are required for patients that have Medicare Part B. This means there are several variables that must be considered to choose the correct code for each immunization encounter.
Another issue that sometimes complicates choosing the correct administration code is the electronic health record system. While every system will have the correct codes available, sometimes the code descriptions have been shortened or abbreviated which may create confusion. That is why being familiar with the rules and codes associated with immunizations is important for correct reporting, coding and billing.
What charting information is most essential to be able to code immunizations properly?
There are several key pieces of information required when assigning codes for immunizations for correct code assignment for immunization. The first is the age of the patient, which is usually easy to find in any chart and typically included in the header of the electronic health record. Other issues, like the primary insurance or whether vaccine counseling was provided might require more investigation to locate. Some payers also require the NDC code for the vaccine product used, which must be included on the billing claim.
LOG IN TO ACCESS THE ARTICLE >>
Before completing NHA CE, we recommend checking the rules and regulations of the licensing or regulatory agency for your state, in case there are different requirements.