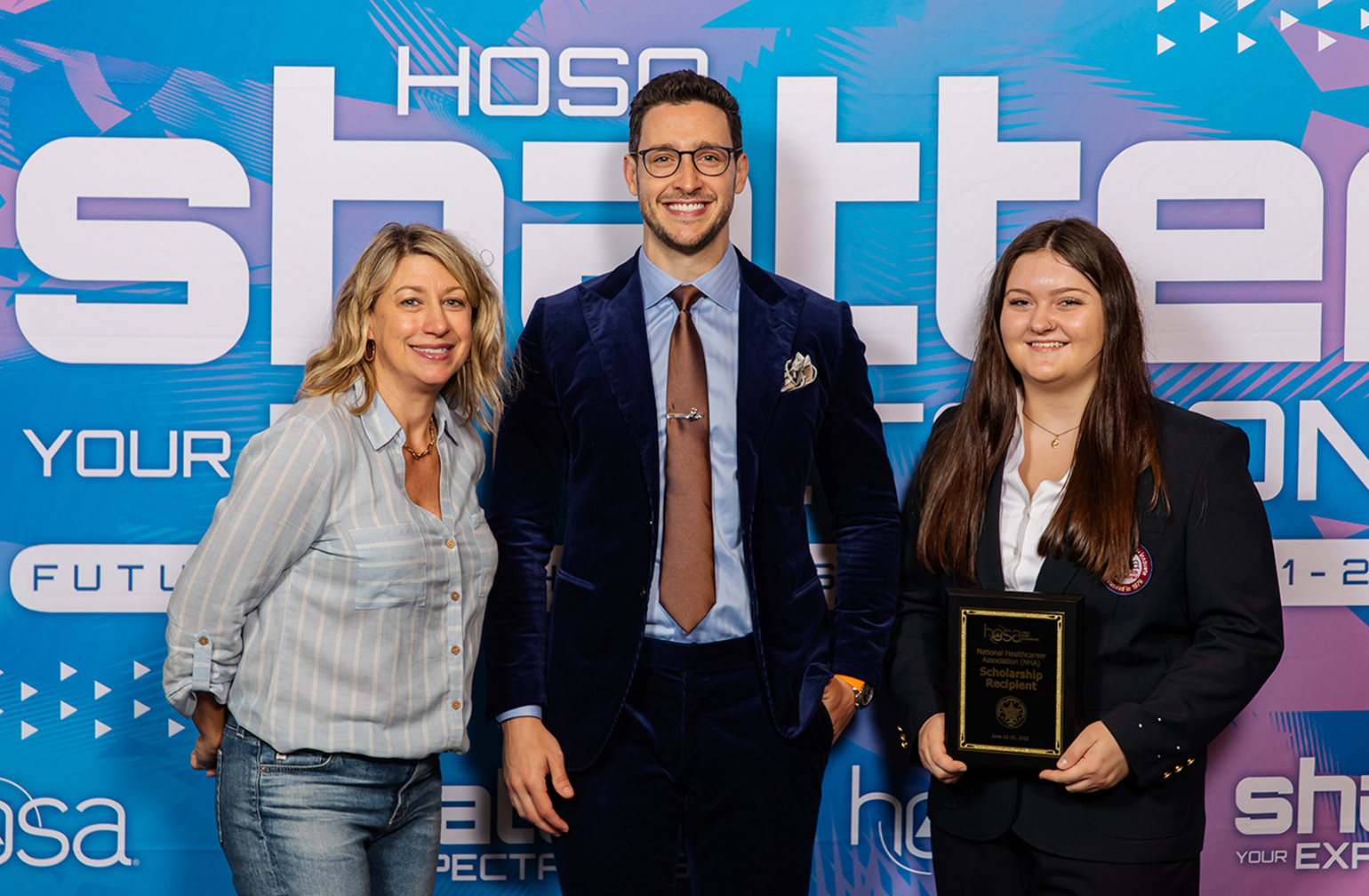 For the fourth straight year, the National Healthcare Association (NHA) has awarded a $1000 student scholarship at the HOSA International Leadership Conference. This year's outstanding student recipient, Kaitlyn Jollimore, is a first-year student at the University of New Hampshire, where she started the first HOSA collegiate chapter in the state. She had been active in her high school's career & technical education (CTE) institution, Manchester School of Technology.
"The minute I stepped onto campus I felt like there was a missing piece in my life without HOSA," Jollimore said in her application. "After becoming an official student organization, we met weekly and prepared for the 2022 State Leadership Conference, where all nine of our competitors placed first in their competitive events."
She then worked to get seven chapter members to attend the HOSA International Leadership Conference in Nashville, Tenn., last June, where she accepted the scholarship award from NHA's Director of Sales for CTE, Laura Flynn. Jollimore said she is extremely grateful, knowing that HOSA partnered with NHA to provide the scholarship.
"

NHA's mission

is to empower people to access a better future," she said. "I really appreciate what NHA stands for and believe, especially with the current understaffing issues in the healthcare field, that NHA is making great strides towards a better tomorrow, not only for health professionals, but for better quality patient care."
It's difficult to imagine anyone more deserving of this scholarship than Jollimore. She is truly busy pursuing her passion in allied health sciences. This passion for healthcare and serving others began when she injured her back during cheerleading activities in high school. She was so impressed with her healthcare providers that she decided healthcare is her calling.
Jollimore now spends her time working at a senior living facility, volunteering at numerous health-related organizations, attending classes and actively participating in various university organizations.
"Working as a nursing assistant has been very beneficial and helped solidify my decision to pursue healthcare," she said.
While Jollimore's school did not offer NHA's Certified Clinical Medical Assistant Certification (CCMA) or any of NHA's other seven nationally-accredited allied health certifications, she was able to earn her certified nursing assistant (CNA) certificate in June 2021, giving her a good understanding of the importance of CTE's role in healthcare. As she pursues a path to medical school and a career in orthopedics, she says she "can't wait to make a real difference in the world."
"Serving others and making a difference has always been my calling, and I am lucky enough to have found my passion for healthcare and to put my purpose to use," she said.
Though Jollimore is extremely busy, she makes time for a healthy lifestyle.
"Choosing to live a healthy lifestyle is certainly different for everyone," she said. "I work hard every day to ensure my mental health is up to par before taking on anything else throughout the day. Taking care of yourself is very important, especially in this post-pandemic world."
She believes this is especially critical for health professionals, "because working in healthcare at any level can be taxing, and to provide the best quality care, you have to put yourself first and take care of yourself."
Being involved with HOSA was also key to her initial decision to pursue a health occupation.
"HOSA has changed my life in many different ways. I have learned who I am and who I want to be through the travel, networking, and hard work opportunities that HOSA provides its members," she said. I am honored to be a part of such an amazing organization, and I am even more honored to be able to share HOSA with others!"
In a poem that Jollimore published in June 2021 for her Saint Anselm College Access Academy class, she captured her anxious feelings about transitioning from high school to college. In that poem, she asked herself, "How can I prove to the world that I am just as good as the rest?"
Don't worry. You already have!
Pictured above: NHA Sales Director Laura Flynn (left) and HOSA Executive Director Jim Koeninger, Ph.D. (center) present Kaitlyn Jollimore (right) with a $1000 scholarship at last June's International HOSA Conference in Nashville, Tenn.