Phlebotomy technicians draw blood for tests, transfusions, donations, medical procedures, and research. This role requires both technical and soft skills—technical skills to get a successful draw and avoid preanalytical errors, and soft skills to help patients feel comfortable and safe.
This specialist position changes as healthcare evolves. Take a look at a few phlebotomy technician employment trends we uncovered in our 2020 Industry Outlook research. Be sure to download the full summary PDF at the bottom of this article for more insights!
Nearly all healthcare organizations now require certification.
Hospitals, laboratories and other employers have an increasing demand for phlebotomists, especially those who are certified. 93% encourage or require certification for phlebotomy technicians (CPT), and 80% report that their technicians are certified.
"I place a high value on certification as the process of becoming and maintaining certification encourages us to be aware of the standards and expectations in our chosen field." - Wanda Chaney-Tardy, RN BSN, CRNI, CPT2
If you're on the fence about certification, here's something to consider: 63% of institutions increase pay when an employee earns a professional certification.
On average, phlebotomists perform 28 sticks per day.
It's easy to see why certification is so valuable. It helps prove you have the knowledge and skills demanded in this profession. In addition to drawing blood for tests, transfusions, donations, medical procedures, and research, some phlebotomy technicians also perform point of care testing, such as blood glucose levels.
Other tasks can include explaining and answering patient questions, preparing them for testing, verifying identities, and properly maintaining medical equipment. This is a very hands-on position with a lot of patient interaction and specialized knowledge required.

Soft skills like communication are in high demand.
49% of employers surveyed said "communication" was a skill that newly-certified phlebotomy technicians lacked. Professionalism and dependability also ranked high as sought-after soft skills. As a phlebotomy technician, you spend a lot of time with patients—patients who may be uncertain or anxious about needles—so soft skills are especially important.
Phlebotomy technicians make between $24-$48K per year.
Phlebotomy is a promising career with a median pay of $33,670. As stated previously, certification can improve your chances of being higher on that pay range. If you're on the job search, or preparing for a career in phlebotomy, it's important to know what employers are looking for. Some of the top screening criteria include certification, completion of an accredited phlebotomy training, years of experience, and a high school diploma or equivalent.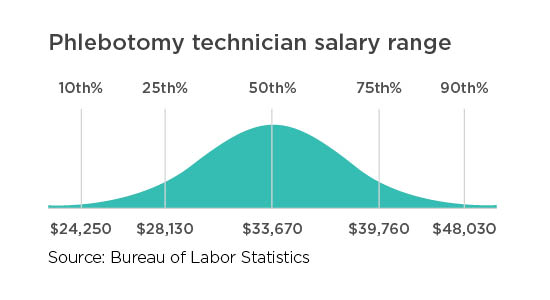 For more insights about this profession gathered from employers around the country, download an infographic that shares statistics and trends on the phlebotomy technician profession by clicking the button below.
If you'd like more information about earning your Phlebotomy Technician Certification (CPT), visit nhanow.com.