The healthcare field is constantly evolving. Since your NHA certification expires every two years, renewing your certification shows your employer that you're committed to keeping pace with developments in the field and that you can ensure safety and efficiency in the workplace at all times.
More reasons to renew include:
You want to continue or pursue a career in allied health

Your employer requires it

You worked hard to earn your credentials and don't want to lose them

You want to improve your chances of getting a promotion

Continued access to exclusive NHA benefits and offers
Ready to get started but unsure of the process or have other questions? We got your back!
First and foremost, click here if you have a Pharmacy Technician Certification. Your steps are a little different. Next, determine whether you're renewing or reinstating a certification:
You're

renewing

if the certification has not already expired.
You're reinstating if the certification has expired.

You

don't

need to retake the certification exam if your certification expired

as long as

you're within one year of the expiration date. You can renew but you'll need to complete 15 total CE credits and additional fees will apply.

And if you hold multiple certifications, you only need 10 total CE credits. If you're reinstating, you only need 15 total credits. Great right?

(Learn why allied health workers are earning multiple credentials

here

.)
Ready to renew? Follow these step-by-step instructions anytime, anywhere.
1. Log in at nhanow.com
If you have an NHA certification, then you have an NHA account. Log in to your account at nhanow.com using the email address you used to create your NHA account.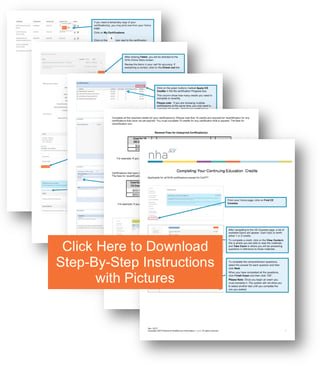 2. Check your status
Once logged in, click "Renew Certifications" on the left navigation.
You're taken to a screen where you'll see all your certifications and the amount of Continuing Education (CE) credits you have left before you can renew.


3. Choose CE courses
From here, click "Complete More CE" to see a list of available CE topics that can help you stay current and further your education.
Note: Your state may have specific CE requirements that affect which courses they accept. Double-check the rules or regulations of the licensing or regulatory agency of your state before completing your CE.
Choose the topics that are most interesting to you. We're always adding new content that is relevant to your everyday tasks.
4. Complete the courses
Once you've selected a course that interests you, review its materials and take the online exam that follows.
Don't worry, these exams aren't nearly as long or as comprehensive as your initial certification exam! You can see that you've passed the course by checking your progress bar.
You're well on your way. Woo!
5. Track your progress
You can track your progress and see how many credits you've completed by clicking "My CE History." Each course is worth 1 – 2 credits — they add up fast!
How many credits do I need?
You need just 10 credits to renew if your certification hasn't expired. If your certification has expired less than a year ago, you can renew, but you'll need to complete 15 total CE credits and additional fees will apply.
Have credits from other sources?
You can add credits you've earned outside of NHA's CE library. Click "Add External CE Items" from the My CE Portfolio page. You're prompted to upload documentation of the credits you've completed.
If you have trouble with the upload, just email your documents along with your full name, email associated with your account and a phone number where you can be reached to continuingeducation@nhanow.com
NOTE: At NHA, 1 credit is equal to two hours. So, if you completed a 6-hour class, you would have completed 3 of your 10 CE credits. You don't need to worry about this conversion if you are using the NHA CE library.
6. Pay your recertification fee
Click on "Renew and Pay" to go through a simple checkout process, pay your recertification fee and make things official.
How much does it cost to recertify?
As little as $179 every two years — no extra membership fees or annual costs.
That's less than $7.50 a month to keep your credential current. Put another way, that's less than most people spend on Netflix every two years. Plus, you only pay the recertification in full for your first certification. Additional credentials are renewed at a deep discount.
And if you're reinstating an expired certification, there's an additional $99 fee. (Another reason not to let your certification expire!)
7. Celebrate
This step is not to be skipped. Do a happy dance, brag to your friends and colleagues and share on social media using #nhacertified — you did it!
Along with your new certificate and wallet card (which will be mailed to you), you'll also continue to enjoy these great benefits from NHA:
Unlimited access to continuing education content with no additional fees

Active/Current certification holders are searchable by their credential/can be verified by employers

Ability to add your certification to your LinkedIn page

Ability to receive occasional discounts on NHA renewal fees

Exclusive emailed offers with free professional development tools and resources

Support team available by phone, email, chat and social media

Opportunities to participate in national healthcare industry studies and task forces
And of course, you've earned all the benefits that come from investing in yourself and your career...which are truly the greatest of all.
Get more information about renewing or reinstating your NHA certification on our renewal page.