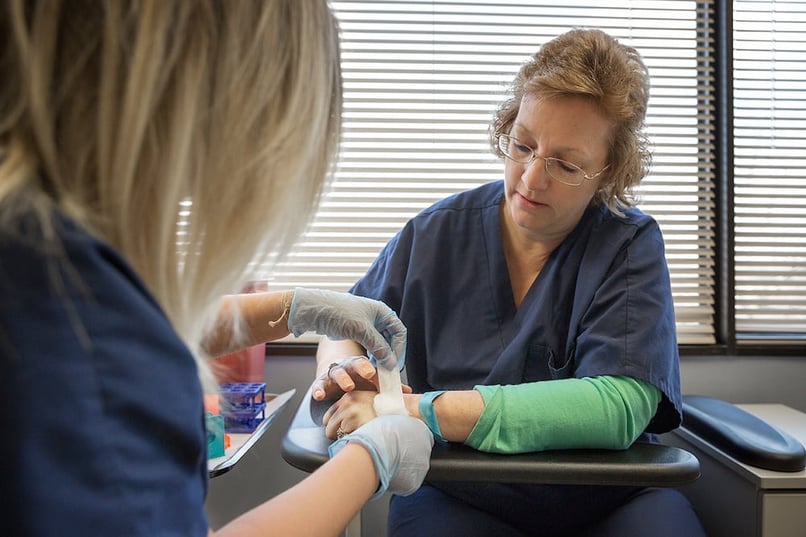 Thinking about starting a career as an allied health professional? Whether you're interested in pursuing a profession as a medical assistant, phlebotomy technician, pharmacy technician or any other allied health position, here are some reasons this path is right for you.
Job security
Allied health is one of the fastest-growing job sectors in the U.S. economy. In fact, pharmacy technician, medical assistant and physician's assistant were all listed in the 2016 US Bureau of Labor Statistics' top 30 fastest-growing careers. (Source)
Growing paychecks
There's a lot of opportunities in allied health right now. As demand increases, so does the potential for your paycheck to grow. For example, according to Bureau of Labor Statistics (BLS) datadata the average salary of pharmacy technicians is $31,090 … but 90 percent of pharmacy technicians make an average annual salary of $43,900! (Salary ranges vary by location and job. To find more specific information, search the BLS website.
Education that fits your schedule
Many allied health career training programs are flexible and can work around your busy schedule. You can work part-time or even full-time while working toward your allied health certification! Find a list of programs that offer NHA certification exams here.
Flexible hours
Flexibility doesn't stop at allied health education. Health care is needed around the clock … which means you can choose hours part-time, full-time, morning, afternoon and night.
Variety
Allied health professionals often wear many different hats, which adds variety to the day. And if you ask anyone in health care, they'll likely tell you that each day is different. Not only because patients change but because public health as a whole constantly changes … which means your job will evolve with the times. No humdrum routine here!
Opportunity for advancement
Typically it's more advantageous for an employer to promote an existing worker they can trust rather than hire someone new. Some employers even reimburse educational expenses or offer career ladder programs so you can earn multiple certifications or qualify for a higher-paying job.
You'll make a difference
Of course the biggest benefit of being an allied health professional is that you're making a life-changing difference. There's no reward greater than seeing the genuine appreciation on a patient's face. If you're looking for a meaningful profession where you can help make the world a better place, health care might be right for you.
A good career is one that fulfills you in more ways than one. If you're looking for security and flexibility but also want to come home at the end of the day knowing that you made a difference, pursuing an allied health career might be the right move for you.
Ready to get started? Learn more about NHA's nationally recognized allied health credentials
.