Wondering what it's like to be a certified allied healthcare professional? We asked Nicole (CPT), Rachel (CMAA), and Adelaide (CCMA), why they chose to earn, and maintain their certification.
A helper to patients and hero to family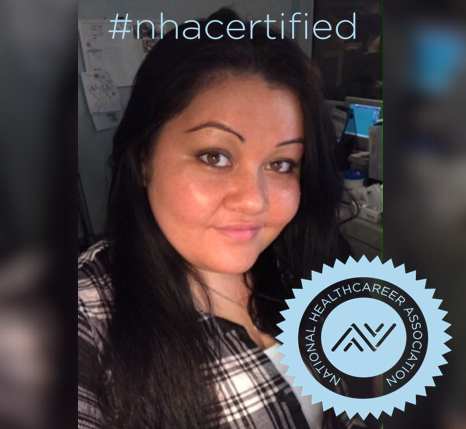 For Nicole Gill being a certified phlebotomy technician (CPT) is about helping people:
"I love the field I'm working in. I love helping people and seeing their faces when they realize that they have someone who really cares helping to service them."
Nicole is especially proud of how her career helps her provide and be an example for her children:
"I also love the fact I'm showing my children that if you work hard and keep pushing – even when it's hard and you don't think you can do it – you can! I've been through a lot, learned to pull through, and know I can show I've successfully done it, and that there shouldn't be any reason they aren't able to. I can now provide for my family and smile and say to myself yes you did it!"
Demonstrating skill
Certified medical administrative assistant (CMAA), Rachel Godley, thinks her certification helps her stand apart with employers and provides her opportunities to keep learning:
"I chose to become certified because it shows mastery of the skills employers are looking for. My career keeps me excited because with the constant changes in the healthcare field it's helpful to have the knowledge and skills at my disposal."
A career in balance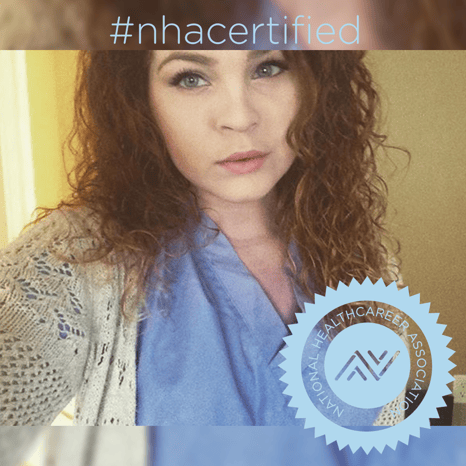 It's a desire for a healthcare career that still had work-life balance, which sparked Adelaide Bean, CCMA, to pursue her certification in medical assisting:
"I chose to be a MA because I love science and the human body-and becoming a MA was a way to have a health care career with doctor's office hours. I work for an OB/GYN and I absolutely LOVE what I do. I never knew exactly how complicated and amazing the female body could be. And not to mention I get to love on all the babies when the patients come back for their postpartum visits!"
Her career has brought her unexpected opportunities for personal development along the way;
"Becoming a medical assistant has opened my eyes and made me a better person by giving me patience and understanding. I wake up every morning ready to help our patients to the best of our ability and by renewing my medical assistant certification I get to continue making a difference in the world-one patient at a time."
Share your #NHAcertified story
Each NHA certified professional has a story, has a reason, has an inspiration for entering this industry. Would you like to share yours? Click here to submit your #NHAcertified story and you could be featured next.