There's a growing demand for frontline healthcare workers. To date, NHA has awarded over 750,000 certifications to allied health professionals. Empowering professionals through the power of certification is at the heart of our mission, and we regularly conduct industry research to ensure the content and exams we provide to current and future certification holders are relevant and keep up with trends.
Recently, we looked at the current state of the EKG technician profession — and what's to come in the future. During this research, we surveyed and interviewed working EKG technicians across the country. Here's a what we learned from them.
An EKG technician doesn't have to have "EKG" in their job title
An electrocardiogram (EKG) technician uses monitoring equipment to help physicians test patients' hearts. Some of their tasks include:
Preparing patients for various cardiovascular tests
Reporting findings to physicians who make decisions based on the results
Maintaining equipment
Skilled EKG technicians could work exclusively as cardiovascular technologists or perform EKG readings as part of their duties as a PRN, medical assistant, or other members of the care team. These professionals work under the direction of a physician in hospitals, physicians' offices, and diagnostic labs.
Job titles for those with EKG/ECG technician skills could include
EKG Technician
Monitor Technician
Telemetry Technician
Biomedical Equipment Technician
Certified EKG Technician
What's the job outlook?
According to BLS data, job opportunities for cardiovascular technologists and technicians across specialties is expected to grow 22% by 2024, with a 2015 median salary of $54,880, based on skills and experience. This is a faster growth than the average for all occupations.
Some factors driving this growth include:
Aging baby boomers
Rapidly-evolving imaging technology that is replacing more expensive and invasive procedures
Dropping prices in technology which makes it affordable to medical providers outside of hospitals (so doctors' offices and diagnostic facilities need EKG technicians as well).
It's a great time to start on the path toward becoming an EKG technician and find the right training program for you.
EKG technician training & education trends
While some EKG technicians receive their training on the job, our research found that 75% complete certificate programs which include dysrhythmia courses and earning credentials such as Certified EKG Technician (CET).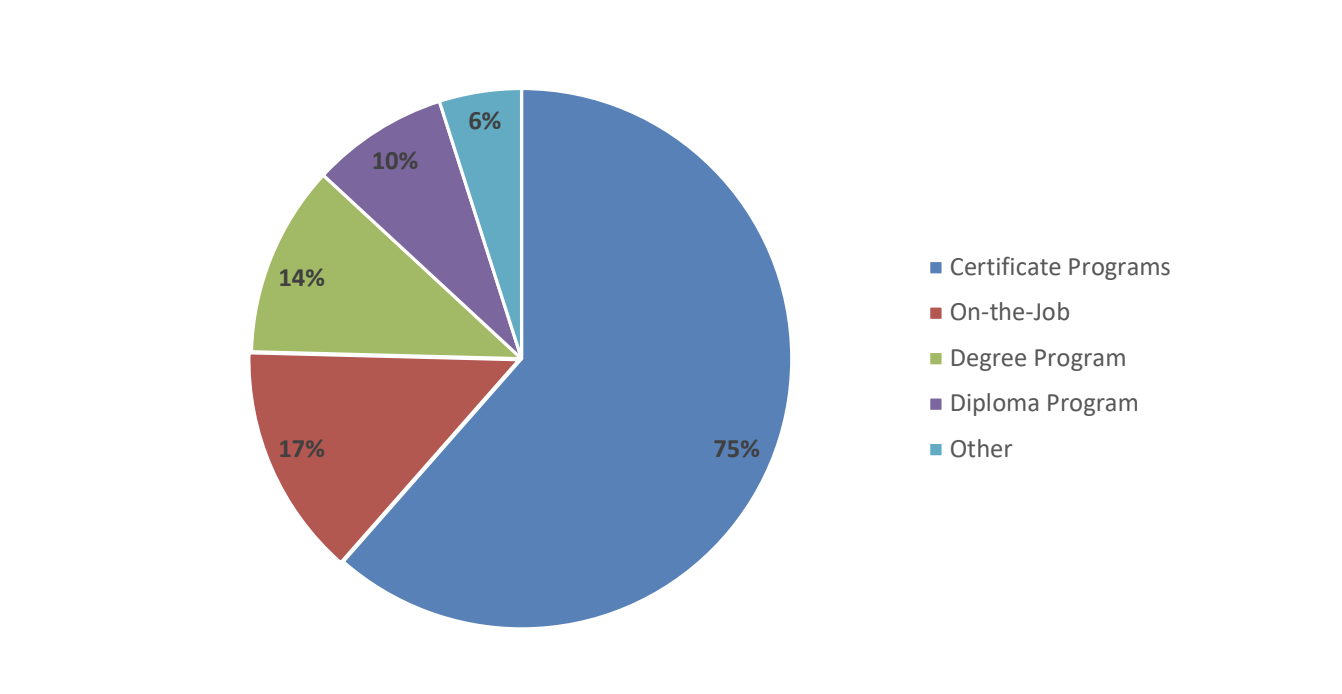 We also found that certified EKG technicians are expected to have the best job opportunities having a demonstrated commitment to the healthcare industry. And those certified in more than one specialty are expected to find even greater job opportunities.
Read why allied health workers are stacking credentials
So which credentials are best to stack?
Here's a list of the most common NHA certifications being combined with EKG Certification (CET):
When determining which training option is best for you, ensure that you can achieve a nationally-accredited certification.
Growth opportunities for current EKG technicians
What's better than achieving your CET? Consider adding even more certifications to your title, as stacking credentials can help lead to expanded roles. There are many careers in the medical field similar to EKG technicians that a CET could bridge into with additional training/schooling, such as:
Medical Laboratory Technologist
Nuclear Medicine Technologist
Radiation Therapists
Considering entering the healthcare industry? Looking to demonstrate to employers your competency and commitment? Click here to learn how to earn a nationally-accredited healthcare certification with NHA.