Patient Care Technicians/Assistants (CPCT/A) are critical in helping provide the day-to-day care that some patients require. This job requires a broad range of knowledge and skills, and is a vital role in caring for patients — especially those with chronic conditions.
If you're looking to start a career as a patient care technician, or you're an existing patient care technician who is looking for a change, here are some tips to help you during your job search.
Know What Job Titles to Search
As you've probably discovered, different healthcare employers use different titles for similar roles. When you're searching for a job as a patient care technician, expand your search to the following titles:
Certified Patient Care Technician
Certified Patient Care Assistant
Home Health Aid
Certified Nursing Assistant (you may need to be certified by the state)
Patient Care Associate
Patient Care Assistant
Home Health Associate
Know Where to Search
Patient care technicians most often work in:
Hospitals
Nursing homes
Rehabilitation facilities
Home health agencies
Assisted living facilities
Determine if you have a preference of which work setting you'd prefer and start researching employers. You can also check out current job openings near you on the NHA Job Board.
You can check your local healthcare organizations websites, too. If you've got your eye on a specific organization, try to connect with their HR department, even if they have no job listings at the time. Letting them know your interest will help get your resume on the top of the stack when a job does open up.


Understand What Employers Are Looking For
When preparing for a potential job interview, understand what employers are looking for so you can be prepared to speak to your relevant knowledge and experience.
According to NHA's 2020 Industry Outlook Research, certification is highly encouraged and often required for their patient care technicians.
When employers are reviewing resumes, common screening criteria for patient care technicians include:
Patient Care Technician Certification
CNA License
High School Diploma or Equivalent
Basic Life Support/CPR Certification
Years of experience
Employers also look for candidates who demonstrate excellent soft skills. Unfortunately, many entry-level workers have room for improvement with many of these skills, with two of the three most important soft skills being ranked among the top lacking soft skills in patient care technicians.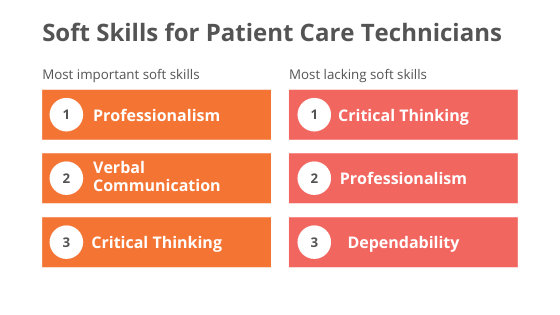 Consider investing in training specifically surrounding essential soft skills to assure employers you possess the skills they are actively seeking in a patient care technician.


Volunteer if You Need Experience
Finding a job without experience is possible, but more challenging. To gain relevant experience, contact a local nursing home or hospice facility and ask about volunteer opportunities. This will give you real-world experience and show employers that you are dedicated to the field and your patients.


Get Certified (or Renew Your Certification)
This goes without saying, but getting certified is increasingly important in healthcare. As a Certified Patient Care Technician/Assistant (CPCT/A), you'll show potential employers that you have demonstrated the knowledge and skills necessary for the job. If you've been certified in the past but it expired, renew your certification before you start the job application process.


Tune Up Your Phlebotomy Skills
One important task that patient care technicians often perform is phlebotomy. Patients who require regular care often need frequent blood draws and testing. A lot of healthcare workers are choosing to stack credentials to help support their career. If you're not ready to commit to attaining a specific Phlebotomy Technician Certification (CPT), you can also find Phlebotomy Continuing Education courses that will show employers you have gone above and beyond to improve your knowledge in this important area.
We hope these tips will help you improve your patient care technician job search!
Patient care technicians play an important role in healthcare, and 37% of the employers we surveyed indicated that the level of responsibility for patient care technicians is increasing. If you're considering entering the healthcare industry, but don't yet have a certification, click here to learn how to earn a nationally-accredited healthcare certification with NHA.